Dear logistics professionals,
Do you often feel troubled by the cumbersome and inefficient logistics process? Please understand GEENO plastic pallet mold.
It will help you improve logistics efficiency, reduce costs, and achieve more sustainable transportation methods.
  Our GEENO is an industry leader with over 15 years of experience, committed to providing customers
  with high-quality and reliable plastic pallet molds.
  Our products use the most advanced manufacturing technology and high-quality materials to ensure durability and reliability,
  ensuring that your logistics operations are always efficient and worry free.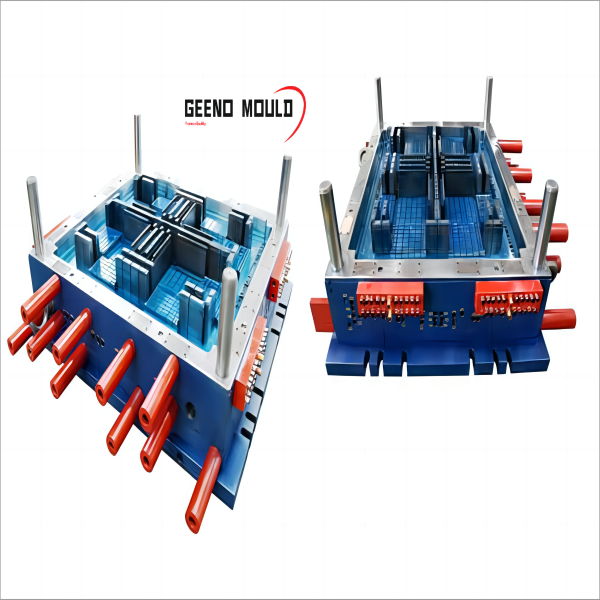 Advantage: Make your logistics management more efficient and reliable
1.High quality materials, durable and reliable 
We use high-quality plastic materials to manufacture pallet molds, ensuring their durability and reliability.
Whether it's heavy goods or fragile products, our pallet molds can easily handle them, ensuring the safety of items during transportation.
2. Precision design, highly customized
We have a professional design team that can customize plastic tray molds according to your needs.
Regardless of size, shape, or load-bearing capacity, we can accurately design according to your specific requirements to ensure the best fit and effect.
3. Sustainable development, environmental protection and energy conservation
We are committed to promoting sustainable development, so our plastic tray molds are made of environmentally friendly materials that comply
with national environmental standards, reducing the consumption of forest resources and energy consumption during transportation.
Maintenance and upkeep methods:
1. Regular cleaning:
Please use cleaning agents and soft cloth for cleaning, and avoid using highly corrosive cleaning agents.
2. Avoid exposure to sunlight:
Prolonged exposure to sunlight can cause deformation or discoloration of the mold. Please store the mold in a dry and ventilated environment.
3. Prevent heavy pressure:
When storing, please avoid heavy objects pressing on the mold to avoid deformation.
Choose us now to make your logistics process more efficient, reliable, and sustainable! Please contact us for more information on products and services.