GEENO MOULD Company, Multi Cavity Plastic Knife Fork Spoon Mold Professional Supplier in China,
has a wealth of experience and technology in the packaging mould field, having made at least 300 plastic knives, forks, and spoon molds for clients from countries all over the world,
such as injection molds for restaurants and folding knives, forks and spoons used in food packaging.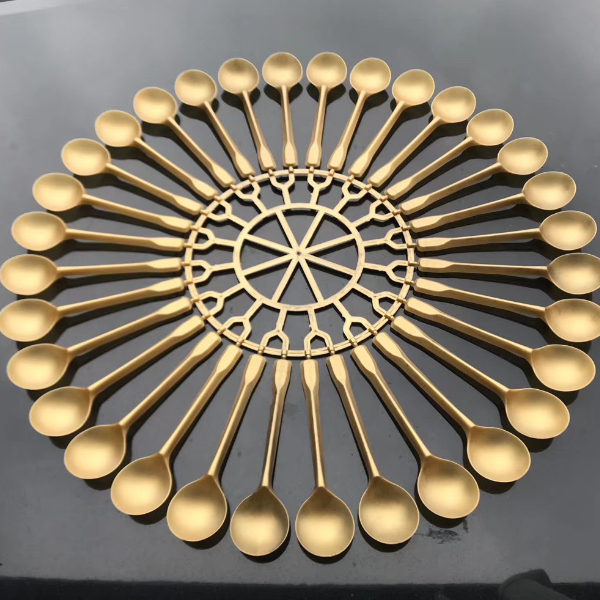 Different plastic materials, Mould steel selection is also different.
The plastic material of knives, fork, and spoons generally has PP/PS two kinds.
H13, S136, 2344, 2316, quench and other steel materials are generally recommended for knife, fork and spoon molds.
Because knife, fork, and spoon products belong to fast-moving consumer goods, in order to improve production efficiency,
the molds are generally made into multi-cavities, and the mold shape is square or round.
The gate method of point gate is used, and the hot runner is a full hot runner or semi-hot runner.
If the mold is designed to be square, then a semi-hot runner can be used, and the mold is made into an insert type.
| | |
| --- | --- |
| Name Description | Plastic Bucket Mould |
| Mould Steel For Core & Cav |    H13 |S136 | 1.2344 |1.2738 and so on |
| Mould Base Steel | GEENO Standard | LKM | HASCO | DME or your requirement |
| Product Material Resin | >PP , PS < |
| Runner System | Hot Runner | Cold Runner |Half Hot Runner |
| Gate Type | Direct gate, Point gate, valve gateetc |
| Machine Model Suggestion | 180T model - 600T |
| Mould Delivery Time | 45-55 working days |
The processing technology of knife, fork and spoon mould has high-speed precision carving, high-speed milling and so on.
The ordinary knife, fork and spoon mold is generally a two-plate mold, and the folded knife, fork and spoon mold has more slides on the basis of the two-plate mold.
Therefore, folding knife, fork and spoon mold is more difficult and technical requirements than ordinary knife, fork and spoon mold.
The structure of the GEENO MOULD knife, fork and spoon mold uses laminated mold technology, so what are the advantages of laminated tableware mold?
1) Compared with conventional mold, the output can be increased by 90% ~ 95%;
2) Increased output without the need to purchase additional machinery and equipment.
     This saves the cost of installing machinery and equipment, expanding factories and adding labor;
3) Save raw materials, easy automation, improve product performance, shorten the production cycle.
Among them, the 48 cavity +48 cavity stacking mode plastic tableware mold that we manufacture for customers gives customers more benefits.
Choose GEENO MOULD , you will get not only high-quality, high-standard mold, but also can get strict control of mold quality,
standard process, our after-sales team 24 hours online service quickly responds to your needs.